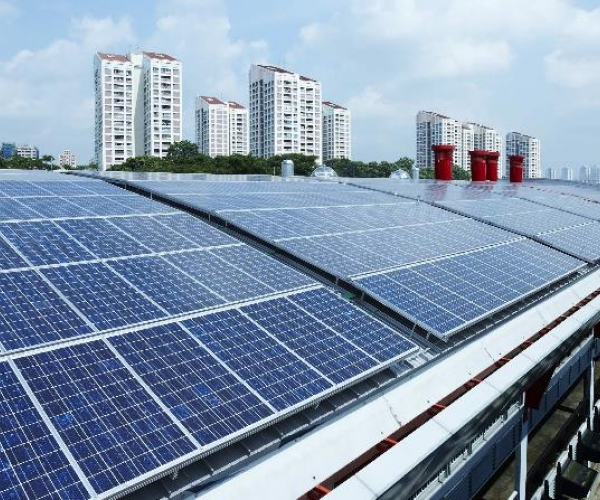 Member Case Study - Grenzone Pte Ltd
Grenzone was founded in 2002, by a group of trained electrical engineers with a passion for the environment. SEAS spoke with Mr Tan Ian Chueen, one of the founder partners of Grenzone, and who is now the Managing Director of Hooray Energy, a subsidiary of Grenzone. Hooray Energy's business specialty is in grid and off-grid solar energy solutions.
One of the challenges Grenzone faced when they first started out was that the "adoption rate was not as fast as [they] would like to see", as Ian said. He explained that even in Singapore today, the adoption rate of solar is still not very high because of lack of awareness, high cost of materials, and also because electricity comes "at a flick of a switch" for Singaporeans, as we are in an urban community that receives electricity so efficiently. Only the very environmentally conscious would use solar energy. However, now that the cost of modules has dropped, it is competitive with traditional sources of energy. The internal rate of return for solar systems has also been reduced significantly. Thus, using solar as a clean energy source has become increasingly popular, judging from the demand for solar energy products and solutions. 
SEAS' has a suite of services to help members grow their businesses; one service being providing members with access to markets in the region. SEAS connected Grenzone and a group of other members with important industry leaders on a business mission to India to understand the solar market there. It was from this experience that Grenzone managed to gain some insight on this expanding market outside of South-east Asia. Ian felt that "SEAS and Grenzone have a good synergy, because SEAS represents all the players in this industry", and both SEAS and Grenzone can complement each other. 
The projects that Grenzone have implemented range from rural to residential to urban projects, large scale to small scale fittings. Solar panels in an Islamic carpet design were implemented on the roof of Suria KLCC in Kuala Lumpur, Malaysia, capable of generating 648 kWh. A micro-hydro power station was built on Don Xom Island, Champasak, Laos PDR. The microgrid could supply for 80 families and is based on an innovative pre-paid metering system, similar to the use of a cash card, where residents pay for the electricity per use using something like a cash card. The revenue gained is used for maintenance of the station and other community projects.
Grenzone is one of our members who have not only developed a viable business but also contributed sustainable energy solutions to the community. Driven by a great passion to conserve our environment, they continue to innovate and use their skills to develop energy solutions for the future. 
---
Grenzone places a lot of emphasis on using their innovations to work together with the environment and communities that they operate in. One product that demonstrates this is the EcoFloat, a floating jetty that is being used in marine national parks and resorts in Malaysia and Thailand. The EcoFloat is made out of High Density Polyethylene (HDPE), thus it is very durable. Fixtures such as solar lamps were integrated onto the EcoFloat, accommodating for activities that make use of the jetty such as fishing. Under the water, retractable harnessing connected to the float is sunk to the bottom of the ocean by pH neutral corals, which will encourage growth of actual marine life and corals. Hence the name EcoFloat, where there is "vibrant life above, and vibrant life below".